Zwanger-Pesiri Radiology Connecting Patients With the Highest Standard of Care
Image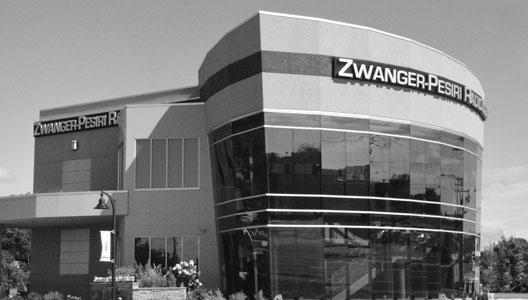 Zwanger-Pesiri Radiology has been a leading force in radiology in the Long Island, Metro New York area for over 65 years. With 30+ offices and growing, their success has been built around a dedication to patient-centric experiences founded on keeping the most caring people on their staff and the newest diagnostic equipment in their offices. The company's unmatched level of patient-centered care, research, education, and commitment to the community has enabled them to surpass every hospital, health system, multi-specialty practice, and every outpatient radiology facility in virtually every facet of radiology and earned them an exemplary 98% satisfaction rate. That's why it's no surprise that reliable and fast connectivity is of the utmost priority for Zwanger-Pesiri Radiology to deliver the high level of care that is critical to their patients and their business.
Connectivity is paramount in allowing us the scale and reach we have achieved.
"Connectivity is paramount in allowing us the scale and reach we have achieved expanding into surrounding counties," explains Joe Funaro, Consultant, CIO, and Engineer at Zwanger-Pesiri. "Our CEO Steven Mendelsohn has always said, 'We must continuously provide our patients with an overwhelmingly positive experience,' therefore, it is imperative and central that doctors and patients have access to their data through our online portal services — morning, noon, or night!"
Due to the evolution of technology, Zwanger-Pesiri can offer life-saving tests such as 3D mammography, or tomosynthesis and provide TeleRadiology expediting time-sensitive disease diagnosis and reports to doctors and patients. But, to achieve this, the organization must be able to quickly send over 3,000 medical scans per week for review and diagnosis so that reliable results are available in the shortest amount of time possible. This translates into the transmission of about a terabyte of imaging data records a day and access to more than 1.2 petabytes of stored patient data. "We transmit large volumes of data that are continually becoming larger because of advances in technologies such as 3D, diagnostic software AI, machine learning and predictive analytics," explains Funaro, "and the data must be transferred to remote locations, so reliability and speed are critical."
Data must be transferred to remote locations, so reliability and speed are critical.
So when Zwanger-Pesiri found out that the data centers they were using were closing, they needed a new solution and fast. Not only did they have a very short window of time to transfer all of their voice and data circuits, but they also needed secure failover and backup protection to ensure all vital information was reliably transferred seamlessly. Failure or delay was not an option when it came to servicing their patients.
"Our patients have grown accustomed to our CEO's vision to provide a frictionless experience, exceptional technology, fast and courteous services, contemporaneous reading and diagnosis, and to provide patients and doctors with quick results for the best possible experience offered in radiology." Unplanned downtime or delay is just not an option for Zwanger-Pesiri Radiology.
Reliability, geography, and white-glove support services were their top non-negotiables in searching for a solution provider. "As a rapidly expanding and busy practice, we need to know that our vendors can provide a sense of urgency and support that we need to support our customers."
That's where Lightpath came in. As a Lightpath data and voice customer for over 15 years, Zwanger-Pesiri has relied on Lightpath to continually understand their needs and provide the high level of always-connected service that grows as technologies change and their business expands.
Lightpath Account Executive, Lauren Castellano, immediately gathered the A-Team:  Joe Thomson from Service Activation, Mike Stockholm from Service Installation, Mike Gerin, and John Casselli from Circuit Design, and Stephanie Regan from Program Management. The team worked closely with Joe Funaro to design rock-solid and reliable, diverse Internet circuits for each site. The team redesigned new circuits, went on-site to install new equipment in the new Data Center, performed QA testing, and provided support throughout the process. The plan also included enough time to test the new circuits so that there would be no customer impact.   Installs were completed on time, leaving enough time for critical testing and timely turnover.
Lightpath enabled Zwanger-Pesiri Radiology to continue to deliver the unique brand of patient-centered radiology services they pride themselves on, which has enabled their business to be successful and grow. According to Joe Funaro, "As a consultative partner, Lauren and the rest of the team at Lightpath have been a tremendous asset to our company. They give us the confidence needed to meet our objectives, and they have made our growth process easy. There is not another vendor who provides this great availability, updates, and reporting. That's why we continue to turn to Lightpath for solutions."