Remote Cloud-Based Contact Centers Boost Your Bottom Line
Image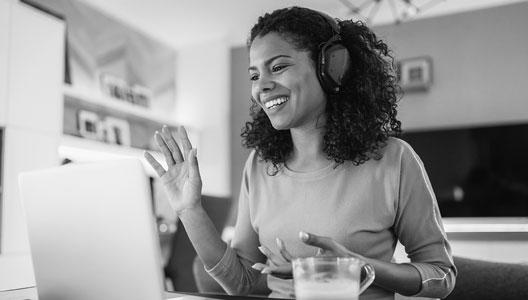 The global health crisis has forced businesses to accelerate the pace of their digital transformation.
To survive amid the social distancing rules, organizations had to rapidly reimagine their working models to enable employees across all functions to effectively and productively work remotely. And to thrive and emerge stronger than ever post-pandemic and well into the future, companies must adjust to these changes with innovative solutions for long-term improvements. The companies that recognize this and are willing to adapt and upend old paradigms will maintain a lasting competitive advantage.
With the right tools, agents can improve customer satisfaction scores while working from anywhere.
One of the main factors driving success in any climate is customer satisfaction. The ability to provide excellent customer experience affects not only keeping the customers you have, but also the new business needed to grow your bottom line. So, it's imperative that Contact Center agents, the face of your business in support and sales, are supported with the right tools to optimize customer experience from wherever they work. When work from home agents are provided with the technology and tools needed to perform their job seamlessly and successfully, customer satisfaction scores (CSAT) and KPIs improve.
The key to gain this competitive advantage is to invest in cloud-based Contact Center technology so your agents can work from anywhere with an Internet connection. The solution provides the ability to implement and manage remote agents, effortlessly adapt to increased call volumes and respond competently through various channels, irrespective of legacy platforms.
Advantages of Cloud-based Contact Centers:
Increase Cost-Savings:
Cloud technology lowers costs across system lifespans when compared to a platform that has large equipment requirements. You only need an Internet connection, which means workers can work from anywhere — employees can use their own devices (less hardware fees), and there is no need for additional office space and furniture. Companies are better able to grow easily without the need to worry about physical space.
Manage traffic, monitor and improve agent performance.
Improve Quality Customer Service:
Management is easily accomplished through remote portal access. You can maintain full accountability, transparency, and visibility regardless of where the agent resides with monitoring, recording, and reporting tools. With real-time visibility of agent call and performance data and the ability to see the levels of calls each agent has, call traffic can quickly be re-routed to reduce customer wait time and send the customer to the agent who can best help them. With real-time insights into critical Contact Center metrics such as service levels, wait times, talk times, handle time, callbacks, and abandoned calls, you can monitor and develop quality improvement solutions. Management can also safeguard quality control by monitoring how agents are answering the calls and providing real-time training.
Because remote-working gives call centers a larger talent pool of agents to choose from, your staffing needs are no longer geographically limited. Since only 1 in 10 contact centers surveyed saw absence rates of over 25%, it suggests that absence due to illness or lack of childcare doesn't seem to be a problem for most.  Work from anywhere modes improve work-life balance.
Gain Greater Flexibility:
As opposed to the hours needed for IT to install each new desk, scaling up is as simple as adding a license and downloading software. Scaling down is just as easy, with significantly fewer infrastructure requirements or costs. You can also quickly expand agents in multiple areas and provide support across more time zones.
Integrating omnichannel communication that your customers demand, such as messaging apps, social media, and text messages is as simple as obtaining and switching to a new module that already lives in your dashboard. Implementing an update doesn't require downtime. Agents can continue to provide customers with the high levels of service expected.
Switching to a Cloud-based Contact Center prepares companies to handle business in any climate while improving customer care satisfaction, sales, and, ultimately, the bottom line. All that is needed is a laptop and an Internet connection.
To learn more about the benefits of switching to a Cloud-based Contact Center solution, contact your Lightpath Account Executive or call 877‑544‑4872.