NICE Solutions for Better Communication
Image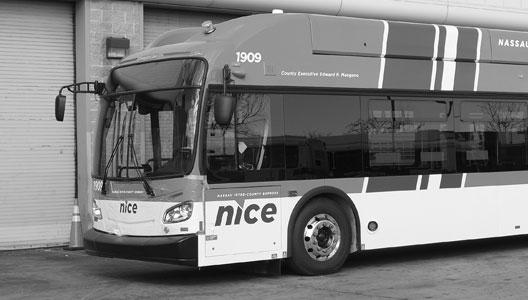 The Nassau Inter-County Express (NICE) is the local bus system serving Nassau County, NY, parts of western Suffolk County, NY, as well as eastern portions of the New York City borough of Queens. The company's goal to provide customers with safe and reliable transportation is achieved by their teams' dedication to an innovative spirit and an ability to embrace creative solutions. In a business where communication is crucial, these qualities are essential when selecting a solution to ensure reliable and seamless internal and external communication.
The company's old PBX phone system had become outdated and was affecting their ability to meet their service levels successfully. Plus, the expense to replace it with a new upgraded PBX system would have been costly, and the large capital outlay that was needed was also not possible.
Another key challenge was finding a way to cost-effectively deliver Unified Communications functionality to remote devices. During one of the initial technical review discussions, Andy Sciacca, one of Altice Business's Sales Engineers, found that NICE had previously purchased a product to track their buses and were reviewing options for a means to communicate with the buses.  Although they had obtained a data plan with Droid tablets, the cost to use cellular LTE was very cost prohibited, so a more cost-effective solution was needed.
The Altice Business  team assessed  NICE's various  requirements and  collaborated with  them to develop  innovative solutions.
NICE selected Altice Business because of its reputation for reliability and because they were a local provider who could best understand and meet their needs.  The Altice Business team, which included engineers, sales, and product professionals, assessed NICE's various requirements and collaborated with them to develop innovative solutions.
First, they replaced the outdated phone system with a 200-seat Altice Business Hosted Voice phone package at one office and another 50-seat package for their Dispatch Center. The new phone system provided all the features needed to achieve the company's goals, such as call recording and auto attendant.
Using an Altice Business Private Metro Ethernet core ensured that NICE's operations could connect 3 of their locations to communicate with each other reliably.  This solution also meant that there was no capital outlay required and no significant construction costs.  As an added benefit, the monthly fees for their phone system decreased.
Next, Andy Sciacca suggested Altice Business's Unified Communications softphone client to cost-effectively deliver Unified Communications functionality to the company's Droid devices. As proof of concept, NICE was provided with five licenses to test out the solution.  After careful evaluation, NICE agreed that this solution was a great success and immediately purchased 100 licenses for their business.
The final effort was the addition of the Altice Business Contact Center solution.  NICE can now ascertain service levels are met by ensuring that calls are responded to and resolved promptly. New detailed reports provide analytical tools that let the company track information such as call answer times, data on how long it took for a call to be resolved, call volume trends, and more. The analysis assists the business on when to best schedule staff and provide targeted training.
NICE now has reliable and cost-effective phone, Unified Communications, and contact center solutions to support its mission of providing safe and secure transportation services to advance the transportation experience for their customers.  The buses can 4-digit dial the main office, and the Dispatch Center can 4-digit dial the buses over their data plan using Droid Tablets. This solution allows them to save on mobile costs and have a predictable monthly fee for Unified Communications.
Altice has  been a great partner providing solutions for vehicle connectivity.
According to Jack Khzouz, CEO of NICE BUS, "Altice has been a great partner providing solutions for vehicle connectivity. These connections provide us crucial data collection, performance, and communication functions that allow us to serve our communities.  Our customers demand information, and with Altice providing these services, we can manage our system to the benefit of over 28 million passengers a year."
As is the case with NICE, when businesses collaborate with a service provider to shape an understanding of their needs and develop innovative solutions for both today and the future, success is evident.  NICE and Altice Business shared a commitment to innovation, mobility, and transformation. If you would like to take advantage of a successful collaboration to help your business better achieve its goals through innovative solutions, contact your Altice Business Account Executive.