ENT and Allergy Associates Healthy Connectivity Improves Patient Satisfaction
ENT and Allergy Associates, LLP (ENTA) is one of the most prominent Ear, Nose, Throat, and Allergy practices in the country. ENTA has grown from 8 office locations in 1998 to 44 office locations today throughout New York and New Jersey. With over 300 specialists and sub-specialists, the practice sees over 90,000 patients per month, and they're still growing.
The company's mission is to provide consistently high customer satisfaction and engagement levels. By prioritizing reliable and fast connectivity, they are able to deliver a high level of care critical to their patient's satisfaction and remain on the rapid path to successful business expansion beyond 2021. Patient access and the consumer experience are at the heart of the health care delivery model, and ENTA is at the forefront of clinical/medical excellence.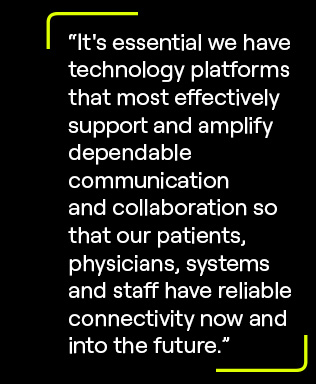 Jason Campbell, Senior Director of Business Development and Marketing, explains, "It's essential that we have technology platforms that most effectively support and amplify dependable communication and collaboration so that our patients, physicians, systems and staff have reliable connectivity now and into the future."
As the healthcare industry continues to rely solely on electronic data exchange, it's no surprise that this need for reliable connectivity is a critical concern. Downtime can reportedly cost businesses $7,900 per minute, along with additional hefty fines for HIPAA noncompliance. And, the impact on patient satisfaction and business reputation can be devastating. The lack of trust caused by unplanned downtimes is a painful reality in today's electronic healthcare environment. That's why reliable connectivity is vital to healthcare providers.
ENT and Allergy Associates counts on Lightpath for the reliable connectivity that is crucial to their business. Their trusted partnership took off in 2012 when Lightpath stepped in to quickly resolve a Hurricane Sandy outage ENTA experienced through another provider. Within an hour, Lightpath doubled bandwidth on their ENTA connection to absorb the additional traffic from ENTA's outage provider. This quick action and support laid the groundwork for a relationship that has continually grown with Lightpath, now the primary connectivity provider to reliably support the successful growth of ENTA's business. 
Most recently, the pandemic posed challenges for businesses all over the world, especially in healthcare. ENTA had to address connectivity needs for a suddenly large remote staff while still needing clinical employees to be physically in the offices for proper patient diagnosis. Security, speed, and reliability are essential to ensure connectivity to access patient records, doctors' calendars, billing systems and quickly launch telehealth solutions.
Working closely with their Lightpath team, leading up to the shut-down orders of the Covid-19 pandemic, ENTA's data center's connectivity was increased to 1Gbps in just days. Anthony Venuto, Director of IT at ENTA, states, "With the number of daily users tripled, our company would have been in a crunch without that bandwidth. Fast, secure, remote access to tech platforms is the standard for our organization, and we need the flexibility to meet whatever challenges arise."
The relationship with Lightpath has provided the responsiveness and reliability crucial to ENTA's success. "We are doing a million things at all times," says Anthony Venuto. "Our IT team needs to be able to call someone and get fast answers and rapid results, and the team at Lightpath does a great job at that."
As their strategic network partner, Lightpath has assisted ENTA with data center moves, new data center implementations, new office site implementations, and additional products to meet their evolving needs. "Some of the field engineers I've gotten to know, such as Steven Ruzzo, Loise Haygood, and Justin Moravec, all played a significant role in the successful move of our corporate office in March of 2019," adds Venuto. With each new request, the team assesses ENTA's requirements, determines the best solutions, and manages the project from planning to installation to ongoing support. ENTA has relied on Lightpath as their primary service provider for over a decade and continues to trust Lightpath as one of their most valued partners as their business continues to expand.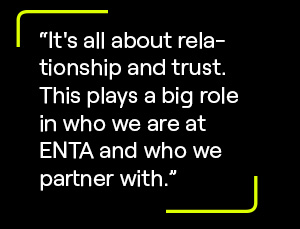 "It's all about relationship and trust. This plays a big role in who we are at ENTA and who we partner with," states Campbell. "Over the years, you end up working with the same people over and over and really get to know them," adds Venuto. "Lightpath's team including, Lou DeNapoles (Account Executive), Sarah Clark (Account Service Executive), Sonia Oliver (Project Manager), and Elizabeth Duncan (Account Service Manager), are all on speed dial. Juanita Diakwanga (Dispatcher) is the go-to person for scheduling new service, and Julio Colon (Sales Engineer) is integral to putting together the technical details of the order once Lou passes it on."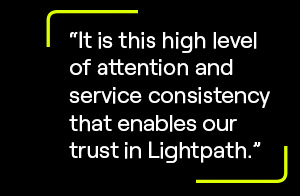 "The entire team makes the ENTA/Lightpath relationship one of the easiest and most transparent I handle in my role. They provide the support to increase our patient satisfaction, increase employee productivity levels, and successfully grow our business. If something goes wrong, it is resolved immediately by our Lightpath team. It is this high level of attention and service consistency that enables our trust in Lightpath and has established them as ENT and Allergy Associates' "go-to" provider," says Venuto.
To see how Lightpath can help your business, contact your Account Executive or call 877‑544‑4872.