The Answer to Caller ID Scams
Increasingly flooded with illegal and annoying robocalls and scam calls, it's no surprise why consumers are just not answering their phones. During January 2021, robocalls averaged 129.5 million calls daily, or about 1,500 calls each second.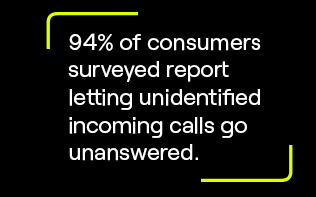 This is especially a problem for legitimate businesses, whose reliance on voice calls has increased 184% during the coronavirus pandemic while 94% of consumers surveyed report letting unidentified incoming calls go unanswered, according to Hiya's "State of the Call 2021" report.
With so many unsolicited calls coming in, people rely on caller ID to determine whether or not to pick up a call. However, Spoofing has made it increasingly difficult to trust caller IDs. Spoofing occurs when scam artists deliberately send false caller ID information to prompt call recipients to answer the phone. The false caller ID could resemble a local phone number, a trusted entity, or in some of the most nefarious instances, it can say it is the IRS or Social Security office. So, the recipient will pick up the call only to be frustrated to find out it's a scam or robocall, resulting in distrust of the caller ID information. This is making it even more difficult for legitimate businesses to reach customers as hackers and scammers are harming this essential business communication tool.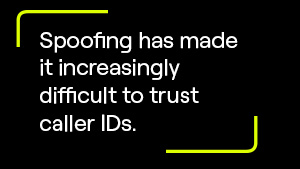 And that problem is what STIR/SHAKEN is trying to answer. STIR, Secure Telephone Identity Revisited, and SHAKEN, Signature-based Handling of Asserted information using toKENs are protocols and standards that help implement strong caller ID authentication.
STIR/SHAKEN digitally validates the handoff of incoming phone calls passing through the intricate web of carrier networks, allowing the receiver's phone company to verify that the call is actually from the number displayed on the Caller ID and has not been distorted.
As explained by the FCC, "calls traveling through interconnected phone networks would have their caller ID 'signed' as legitimate by originating carriers and validated by terminating carriers before reaching consumers."
For this to work best, carriers have been working together to achieve proper authentication as calls pass to/from each other. The originating carrier can digitally sign its verification, and the terminating carrier can then confirm the level of authentication through STIR/SHAKEN authentication and verification services. After an incoming number is verified, the receiver could see a symbol next to the incoming number displaying it's from a "valid caller." Calls that are not legitimate will be tagged as such.
VoIP carriers will need to implement this process by June 2021. According to the Traced Act, Industrywide implementation of STIR/SHAKEN protocols will help create safer communications and return trust in the phone call, promoting good customer relations and the future of better business. Businesses will benefit because consumers who have stopped answering their calls will begin to trust caller IDs and start answering again.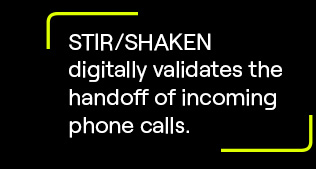 Lightpath is also working with the carrier community to implement new, more robust STIR/SHAKEN protocols at no cost to customers beginning in June 2021. Customers will automatically be opted in but will have the ability to opt out. This, combined with The Enhanced Caller ID, will tag non-legitimate calls as "Spam + Caller ID" or "Robo? + Caller ID." That enables the recipient to decide whether they want to answer the call based on a back-end reputation database.
To find out more about how Lightpath can help with your Voice, Internet, Fiber, Security, and Managed Service needs, contact your Account Executive or call 877‑544‑4872.