5 Solutions for Optimal Internet Connectivity
Image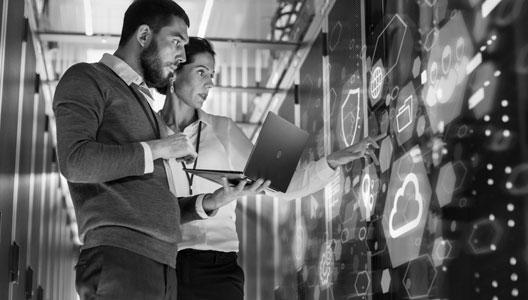 5 Solutions for Optimal Internet Connectivity
Businesses today rely on connectivity more than ever. The priority is to keep connectivity up and running and in the most efficient manner possible.
With the cost of IT, downtime averaging $5,600 per minute, an interruption for any reason could cause permanent damage to your business. Downtime can be caused by a number of reasons from an overburdened network to a malicious cyber-attack. When critical systems go down, you invite compliance risks. Couple that with the dangers brought on by malicious cyber-attacks and the risk threshold is significantly compounded. Even delayed Internet can have an impact as employees turn to insecure tools like email and file transfer services just to remain operational. In fact, more than 75% of senior executives reported losing critical information as a result of downtime.
That's why being proactive in both the assessment of your network's performance and the security in place is critically important to your bottom line and your company's reputation. In addition, ensuring the increased productivity that results from employees and clients having access to an optimal network connection is a smart investment that pays off with a significant ROI.
It is vital that companies adopt best practices to keep their Internet not only up but also running efficiently to meet and exceed their evolving business needs.
Best Practices
Evaluate
Examine how the network is set up and the hierarchy of what is critical and what is not. Consider whatever is core/critical to the business and needs higher priority and protection. The number of users, geographical diversity of offices, and growth plans will contribute to bandwidth requirement parameters.
Have mission-critical traffic on one circuit and everything else on the other to best protect your business. Understand the attributes of your applications (data, video, voice) and what is used by whom and the consumption of bandwidth and content. Know how much bandwidth you need to have in order to meet the growing needs of your business.
With downtime averaging $5,600 per minute, an interruption for any reason could cause permanent damage to your business.
Design
Evaluate your emerging business needs. Will your network be able to meet your connectivity needs now and in the future? Take into account what day-to-day business tasks require higher bandwidth.
Implementing an active-active cluster architecture rather than an active-standby architecture can minimize downtime and be helpful in case of high load. Balance the load best by knowing how much bandwidth is used for each application. With an active-active architecture, you know your Internet will be up and running in the event of an outage because applications are delivered via two connection paths at all times. With an active-standby configuration, it is possible you may not know whether or not there is an issue with your standby connection since no applications are using it on a daily basis.
Deploying Border Gateway Protocol (BGP) throughout your network can enhance its security and strength. Even though BGP is labeled as a complex routing protocol, its implementation in sizable enterprise networks can bring meaningful benefits. The key benefit is BGP always chooses the best routing path to make networks work as efficiently as possible.
Security
To protect your critical data, you must be proactive in your malicious attack detection and mitigation planning. Have a security layer with IDS (Intrusion Detection Systems), IPS (Intrusion Protection Systems), DMZ layer, DDoS protection, a user layer, and anti-virus software at the edge. Layout and define your security model and make sure that you have solutions that continually are updated to identify malicious attacks as they evolve.
Back Up
Redundant Internet ensures that you can connect and access your data even when the primary line is down. The backup connection can be designed to perform an automatic failover during the outage. The secondary network resumes to all the needed functions until the network is restored without slowing down speeds so that you can keep up and running without interruption.
Partner
Look for a single partner that is aligned with the goals of your business and has the expertise to help assess and implement solutions that meet your specific needs. When you partner with a trusted managed service provider, rather than multiple vendors, you mitigate concerns of incompatibilities that may result in system malfunctions while ensuring the ongoing protection, efficiency, and speed of your Internet connectivity.
Your Lightpath account and engineering professionals are available to help assess and plan for optimal Internet performance and security for your business. Reach out today.